The photographer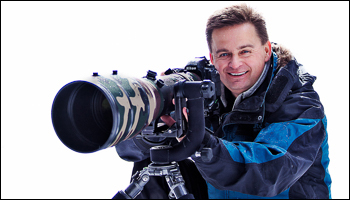 Arnfinn Johansen is a semi-professional wildlife photographer from Norway. He is an elected member of the Norwegian Nature Photographers Association/NN, a prestigious association of professional nature photographers. In 2017 Arnfinn founded Oltepesi Tented Safari Camp, an eco safari camp located in Maasai Mara in Kenya, to meet professional wildlife photographers' and nature photo enthusiasts' needs. Arnfinn also is a photo guide for Zoom Fotoresor, and Africa Geographic. His images are represented by NTB Scanpix news and photo agency.
The photography
Through his photography, Arnfinn conveys the magic of nature, communicates its many moods, and reveals its stories and secrets. His images are about more than just excellent composition and technical ability; they offer the viewer an intimate view of nature and a moment of reflection. Some of Arnfinn's most powerful shots show his subjects in their natural environment, combining clean composition with the space and beauty of the landscape. In addition, he always looks for stories behind the images that need to be told, inspires respect for nature and reminds us to be humble. When all of these elements come together in a single photograph, Arnfinn knows he has succeeded.
Conservation
Arnfinn is very concerned with sustainable tourism and conservation. Therefore, Oltepesi Tented Safari Camp is run and maintained with the conservation of the environment at the forefront. The idea is to give back: The safari business shall positively contribute to nature and local communities in the Mara. Arnfinn collaborates with two selected non-profit organisations working respectively for wildlife conservation and local health care. The charitable partners are Remembering Wildlife and Right to Sight. The camp also hosts Oltepesi Public Pumphouse. This 200-metre-deep well is financed by the camp and provided to the public for free. Clean water is a significant health factor in all societies, and 2,000 people in neighbouring areas benefit from this daily. Furthermore, a well makes life easier because you do not have to go far daily to fetch water, especially during the dry season. The camp also supports other grassroots initiatives. All of this aligns with the desire to promote sustainable tourism. It is based on the idea that a prerequisite for successful environmental protection is that it must pay off financially for the local communities to conserve wildlife and nature.
Visit oltepesi.com/conservation to read more about these projects.
Awards and exhibitions
Arnfinn's images have been recognised in many international competitions, including European Wildlife Photographer of the Year (GDT), Asferico, Siena International Photo Awards, Glanzlichter, Por el Planeta, Oasis, Global Arctic Awards, Memorial Maria Luisa (MML), Nordic Nature Photo Contest (NNPC), Nature's Best Windland Smith Rice International Awards, Black & White Spider Awards, Sony World Photography Awards, Nature's Best Photography Africa, among others.
Arnfinn's work has been on display at the Smithsonian's National Museum of Natural History in Washington, DC (U.S.), at Somerset House Gallery and Patrick Mavros Art Gallery in London (UK), at Iziko South African Museum in Johannesburg (South Africa), at Giacosa Theater of Ivrea in Torino (Italy), at Museum of Man and Nature in Munich and Stadtmuseum Schleswig (Germany), at White Swan Wildlife International Photography Festival of Sanmexia (China), at Ree Park Ebeltoft (Denmark), at Natural History Museum in Oslo (Norway), and in other cities including Mexico City in Mexico, Moscow in Russia, Kolkota in India, Oviedo in Spain, Fürstenfeldbruck, and Lünen in Germany. His images have also been published in books, newspapers and international photography magazines.
Professional background
Arnfinn holds a Bachelor's Degree in Finance and Business Administration and has over 20 years of experience in entrepreneurship, governance, board work and management within the information technology industry in Norway. In 2008 he co-founded Styrmand AS, an IT consulting company based in Lillehammer and Oslo. Today, he is the company's CFO and Chairman of the Board. There is a good synergy between Arnfinn's day job in IT and his passion for nature photography. One provides an energetic schedule and challenging workload in an inspiring and expanding company. The other offers opportunities to travel, a chance to get outdoors into nature, and time to reflect and think. But, importantly, both roles provide energy and invigoration to the other.